Grand Dive Pro PLUS
1.3 ATA Summit to sea – Pressurizing Vessel
SUMMIT TO SEA – GRAND DIVE PRO PLUS
60″ X 103″ (152 cm x 261 cm)
WHEELCHAIR FRIENDLY! This chamber measures 60″ (5 feet) in diameter and 103″ (8.5 feet) long; one of the largest mild hyperbaric chambers on the market. We feel that this will give the end user (i.e. clinic) the ability to serve every person needing hyperbaric therapy no matter what their condition is.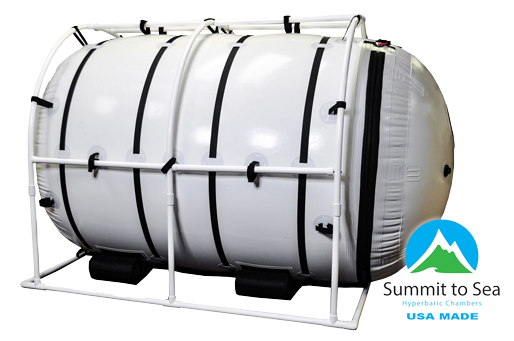 GRAND DIVE PRO PLUS FEATURES
These are the top benefits:
WHEELCHAIRYou can roll a wheelchair into this opening with plenty of room. If the person in the wheelchair is not able to sit up straight up they have the ability to be slightly reclined. This also allows plenty of room to have a second person to be inside the chamber with them.

HEALTHCARE PROVIDER

This chamber provides plenty of room for healthcare workers to actually treat their patient inside the chamber – enhancing their treatment.

GURNEY ACCESS

Another benefit of this chamber is it allows for a gurney (not included) to be rolled into the chamber if they are not able to sit in a wheelchair.

COMFORTABLE RECLINER

For other applications this chamber allows you to put a comfortable reclining office chair inside as the feet can be raised up and the back reclined.

MAT TO RECLINE

And lastly, it comes with the usual foam mat that allows anyone to lay down and rest during their treatment.

The Grand Dive Pro Plus is uniquely designed with a large spacious entrance
Double sided circumferential zippers for ease of entry and exit (can be operated from the inside or the outside of the chamber)
Includes an external furniture-grade PVC frame
Plenty of room for multiple people or plenty of room to exercise inside the chamber
Comes with redundant compressors (4) for added safety
An air relief valve is provided at each end of the chamber
Spacious and roomy
Light and bright
Weighs approximately 50 pounds
Includes four air relief valves for safely achieving a maximum of 4.4 PSI
Two auxiliary valves
Two large viewing windows
Carrying case
Four high-efficiency electric air pumps with patented sound suppression and in-line air filtration
Unique design, US Patent Pending #62836935
All chambers have a 10% discount for military, first responders and police officers
| | |
| --- | --- |
| SIZE: | 46″ x 90″ |
| PRESSURE: | 1.3 ATA |
| AIR COMPRESSOR: | 4 air sound suppression pumps |
| HBOT CHAMBER: | US Made |
| SAFETY VALVE: | Double vent system |
| PRESSURE MONITORING: | Bidirectional valve |
| MATTRESS: | Yoga mat |
| FRAME: | 1 / included |
| CONCENTRATOR CONNECTION: | 1 / included |
| WINDOWS: | 2 / included |
| GAUGE: | 1 / included |
| ZIPPER: | Double sided |
| CARRYING CASE: | 1 / included |
| WARRANTY: | 2 years |
| SHIPPING COST: | $475 |
| | |
| --- | --- |
| MATTRESS: | Foam mat with rounded bottom / $350 |
| WARRANTY: | UP TO 3 YEARS |
CHOOSE YOUR PRODUCT OPTIONS:
Extended warranties are available for purchase anytime within the two year warranty period. The extended warranties also cover all components on the chamber — including zipper, windows, seams, valves, hoses, etc.
Head Office
200 Pier Avenue, Suite 304
Hermosa Beach, CA 90254